The Blue note ferme bientôt ses portes et désire vous gâter pendant ce mois avec les meilleurs Dj's et aussi d'excellents musiciens en live .
Le Mercredi 14 Août (veille de jour férié) avec la venue du Crew Afronymous mené par les 2 Dj's : Simon alias Sai et Sylvain alias SlyDaWise qui viendront faire la promotion de leur Afroman Radio ils seront accompagné par Cyrille alias Deejay Seven.
Ils viennent dan l'unique but de vous faire danser et ce sur tous les styles : Broken Beat, Down Tempo, Nu Disco, Deep House.
Autant vous dire que ça va être le feu !!!
Quelques liens pour vous faire patienter :
SAÏ (Afronymous,Afroman Radio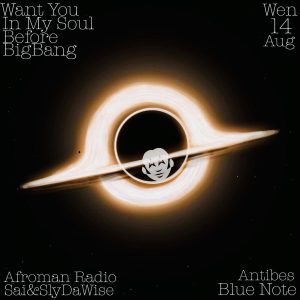 ,Nice )
https://www.mixcloud.com/LeMellotron/sai-afronymous-1/
SLYDAWISE (Afronymous,ComeOnSense,Le Mas-Concert,Worldwide Festival,Afroman Radio )
https://www.mixcloud.com/slydawise/come-on-sense-radioshow-119-baudino-club-house-mix-by-slydawise/
SEVEN ( The Blue Note Antibes, D&S Project )
https://soundcloud.com/deejay-seven/house-of-love-live-blue-note
Les réservations sont vivement recommandées .
Tél : 06 52 23 79 53
Ouverture à 19h
Restauration sur place .
Entrée gratuite
Only cash – No plastic money !!!