AFROMAN RADIO
Presskit
Afroman skateboard voit le jour en Californie en 1999.
Imprégné de la glisse, du skate et du partage, Sai revient en France avec des planches de skate et le fameux sticker de la tête afro aux yeux étoilés qui, dès lors signera leur identité dans tous les événements skate, surf,snow et musique.
En 2009, afroman devient un collectif de dj's unissant Sai et son frère de son Sly Da Wise qui diffusent leur musique et leur vibes dans divers festivals, soirées dans le sud de la france mais aussi à l'internationale..
Et en 2018, les deux dj's Sai et Sly Da Wise créent leur webradio :
AFROMAN RADIO , fournisseur de son gratuit, totalement libre et sans pub !
Leur seul Life motive : faire découvrir tous types de musiques qui groovent au travers d'un voyage musical explorant la Soul, Funk, Rare Grooves, Afrobeat,
Brazilian beats, DeepHouse, et autres styles pourvu que ça groove!
Au travers d'une palette sonore hétéroclite, qui ne ressemble à aucune autre, ils partagent et transmettent leur sens de la fête libre et deshinibé .
Le plaisir de jouer ensemble, de faire des b2b, d'improviser toujours en live, les deux acolytes le communiquent dans les événements dans lesquels ils interviennent : (liste des événements … )
Afroman radio partage ce régal sonore avec sa famille de dj's qui mixent en live sur toute la planète : Toronto, Bâle, Brussels, Paris, Nice, Toulouse, Rome,…
Envie de lâcher-prise, de surprise et d'une bonne dose de groove , programmez les pour vos festivals et soirées et écoutez vous aussi Afroman radio .
À bon entendeur !
Quelques évènements majeurs
– FESTIVAL CROSSOVER 2016 -Gilles Peterson-Jeff Mills(109 Nice)
– THE HERBALISER ( Nice)
– ARCHITEUF ( Ecole Nationale d'architecture Paris)
– PUGET LIVE FESTIVAL Wu Tang Clan/Neeka (Puget sur Argens)
– SOUND SPLASH Mark de Clive Lowe, Simbad (Le Mas-Concert Puget sur Argens)
– CABARET ALEATOIRE Tony Allen, Anthony Joseph (La Friche Belle de Mai Marseille)
– WORLDWIDE FESTIVAL Gilles Peterson ( Séte, Singapour, Shanghaï, Leysin )
– CIRCUS FESTIVAL (Radio Meuh La CLUSAZ)
– LES VOIX DU GAOU- Gilles Peterson, Carl Cox, Acid Arab, Nightmare On Wax (Six Four)
– LES NUITS CARREES Grand Opening ( Antibes)
– CROSSOVER 2017 Ruba Kpo (Saint Jean Cap Ferrat)
– CROSSOVER 2019 Nekfeu, Romeo Elvis (Théatre de Verdure NICE)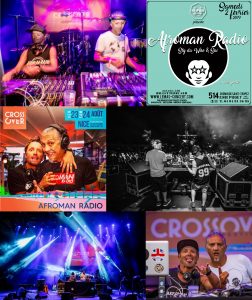 AFROMAN RADIO (English Presskit)
AFROMAN is a Californian skateboard make born in 1999.
Travelling in the US, Saï, a Dj, a skater, and a Californian lifestyle lover, brought some boards back in France but also a bunch of the starry afrohead sticker that you may have spotted a little everywhere.
In 2009 Afroman became a DJ collective roaming around the french Riviera and more, seeding Funk, Soul, Rare Grooves, Afrobeat, Brazilian Beats, House as long as it grooves!
Playing Back To Back is what they love, and you may feel the Love they spread!
Over the years, gigs took them to play in many different areas for various events.
In 2018 Dj Saï & SlyDaWise founded AFROMAN RADIO, a webradio fueling 24/7 pure organic,  non-GMO and add free music, hosting friends Djs' mix broadcasted all around France & more:
Toronto, Bâle, Brussels, Paris, Nice, Toulouse, Rome, Copenhagen….
You fancy a soulful and bangers flavored set for your night…book them!!!!
A bon entendeur!!!
AFROMAN RADIO is now available on your phone downloadable from Apple Store or Google Play…
– FESTIVAL CROSSOVER -Gilles Peterson-Jeff Mills 2016 (109 Nice)
– THE HERBALISER ( Nice)
– ARCHITEUF ( Ecole Nationale d'architecture Paris)
– PUGET LIVE FESTIVAL Wu   Tang Clan/Neeka (Puget sur Argens)
– SOUND SPLASH Mark de Clive Lowe, Simbad (Le Mas-Concert Puget sur Argens)
– CABARET ALEATOIRE Tony Allen, Anthony Joseph (La Friche Belle de Mai Marseille)
– WORLDWIDE FESTIVAL Gilles Peterson (  Séte, Singapour, Shanghaï, Leysin )
– CIRCUS FESTIVAL (Radio Meuh La CLUSAZ)
– LES VOIX DU GAOU Gilles Peterson, Carl Cox, Acid Arab, Nightmare On Wax
– LES NUITS CAREES Grand Opening ( Antibes)
– CROSSOVER 2017 Ruba Kpo       (Saint Jean Cap Ferrat)
– CROSSOVER 2019 Nekfeu, Romeo Elvis  (Théatre de Verdure NICE)
– PANDA Events  15émé anniversaire (Hotel Radisson Nice)
– BRUNCH 2019 Le Mas-Concert (Puget sur Argens)
– NOMADISCO Festival 2019 (Hyères)