Le 20 mai,c'est Picnic with Vinyl, Rum, Tapas & Wine…beau Programme,
C'est à Bucarest que ca se passe Le 20 mai
Retrouvez Mr jaz,l'un de nos dj actif d'afroman Radio..
Il vous reste quelques jours pour booker votre voyage..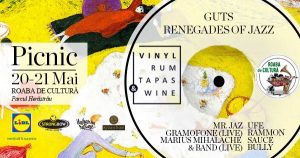 Afromn radio s'ecoute en roumanie sur afroman.com
• Breakfast & Coffee in the Park • Games • Record Sale • Creative Arts • Workshops • All Day Food Yum Yum • VRTW Gear • Jam Sessions, Live Acts and Vinyl Only DJ Sets • Wine, wine, wine & some more wine •
It's time to take your blankets once again and head for Roaba de Cultura, in Herastrau Park. This year we've planned 2 full days of great music, good wine, evening tree lights and some activities to go on the side.
What could be better than chillin' in the park, getting social over a glass of wine, having a bite, enjoying some great live performances and discovering music showcased by master vinyl collectors & DJs?
Did we mention the blankets? They're important! Seriously, BRING YOUR BLANKET!
++ Coffee: TBA
++ Food: TBA
++ Record Sale: Flea Market
++ Arts Workshop: TBA
++ Games: Badminton, Volleyball
++ Workshops: TBA
// Saturday, 20.05 // Breakfast from 11:00 //
* Renegades of Jazz (DE) * facebook.com/rawjazzcuts
* Gramofone Live Band (RO) * facebook.com/gramofoneofficial
* Mr Jaz (FR) * facebook.com/stephen.jaz.5
* Rammon (RO) * facebook.com/RammonID
* Bully (RO) * facebook.com/djbully.ro
* VRTW VA
// Sunday, 21.05 // Breakfast from 11:00 //
* GUTS (FR) * facebook.com/GutsOfficial
* Marius Mihalache & Band (RO) * facebook.com/mariusmihalache.official
* UFe (RO) * facebook.com/UFe.worldmusic
* Sauce (RO) * facebook.com/DJSauceee
* Ciprian Marc (RO) * facebook.com/cipri.m.marc.le.dj
* VRTW VA